CarrotSalad With a Kick
Makes 4 servings.
Ingredients
2 cups shelled frozen edamame

4 large carrots, washed and peeled

1 Tbsp soy sauce (try the low-sodium kind)

1 Tbsp rice vinegar

3 Tbsp canola oil

¼ tsp wasabi powder (such as Hime brand) or chili powder

Black pepper to taste

1 Tbsp sesame seeds
Instructions
Heat up the edamame according to the directions on the package. Then allow to cool. Using a vegetable peeler, shave carrots into long ribbons. For dressing, whisk together soy sauce, vinegar, oil, wasabi or chili powder, and pepper in a small bowl. Combine dressing, carrot ribbons, and edamame in a large bowl and toss to coat. Sprinkle with sesame seeds for garnish.
Nutrition Per Serving
Calories: 237

Total Fat: 15 g

Carbs: 16 g

Sodium: 224 mg

Fiber: 6 g

Protein: 9 g
Roasted Cauliflower
Makes 4 servings.
Ingredients
1 head cauliflower, cut into small florets, stem peeled and diced

1 Tbsp olive oil

1 tsp kosher salt

½ tsp fresh ground pepper

4 garlic cloves, smashed

1 Tbsp hot sauce

2 Tbsp fresh lemon juice

2 Tbsp panko bread crumbs

Nonstick cooking spray
Instructions
Preheat oven to 450 degrees. Place large sauté pan over medium-high heat. Spray pan with nonstick cooking spray. Add cauliflower to pan and sauté for 3 minutes. Add garlic to pan and sauté for another 2 to 3 minutes. Remove from heat and stir in olive oil, salt, pepper, and bread crumbs.
Place pan in oven and roast for 15 to 20 minutes, stirring every 5 minutes. Cauliflower should be lightly browned. Remove pan from oven and place contents in a large serving bowl. In a small bowl, whisk together hot sauce and lemon juice. Pour over cauliflower, toss well, and serve.
Nutrition Per Serving
Calories: 116

Total Fat: 4 g

Carbs: 17 g

Sodium: 428 mg

Fiber: 5 g

Protein: 4 g
Note: You can curb the sodium if you're worried about blood pressure. Swap out the hot sauce and the kosher salt.
Spicy Summer Bruschetta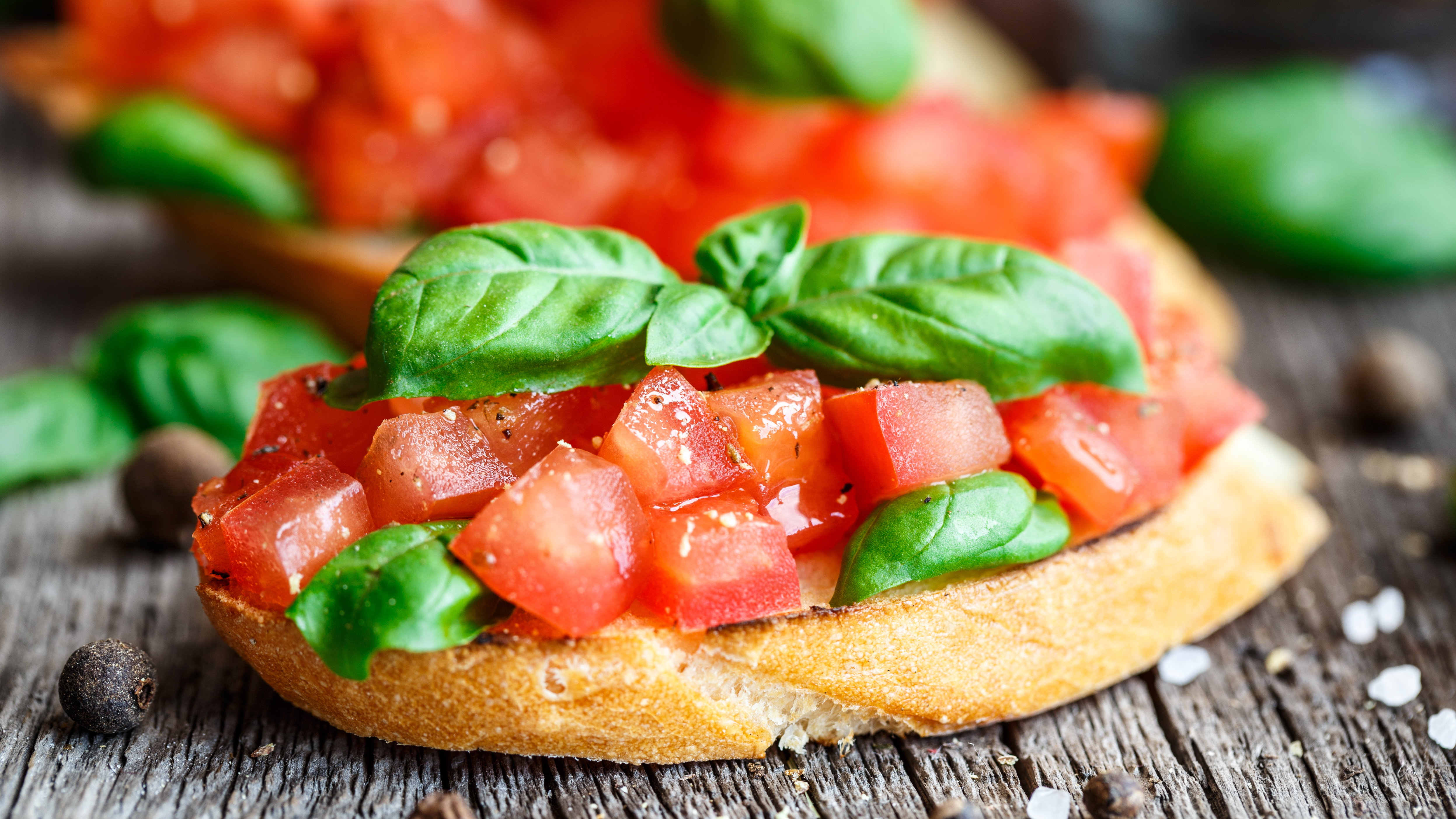 Makes eight ½-cup servings.
Ingredients
12 ripe plum tomatoes, washed and cored, sliced into quarters

3-4 garlic cloves, peeled

8 fresh basil leaves, cleaned and chopped into small pieces

2 Tbsp fresh lime juice

1 jalapeño pepper, washed, sliced in half, and seeds removed

Salt and ground pepper to taste
Instructions
Finely chop tomatoes, garlic cloves, and jalapeño pepper by hand or in a food processor. Place into a large serving bowl. Add basil leaves, lime juice, salt, and pepper. Mix well and adjust seasonings as needed. Serve at room temperature with sliced whole grain bread, whole grain crackers, or on top of whole wheat pasta with a dash of Parmesan cheese.
Tip: If time allows, chill for at least 3 to 4 hours before bringing to room temperature and serving. Serve it on whole wheat toast or use it as a dip for crunchy celery sticks!
Nutrition Per Serving
Calories: 20

Total Fat: 0 g

Carbs: 3 g

Sodium: 110 mg

Fiber: 1 g

Protein: 0.5 g
PM04026.A